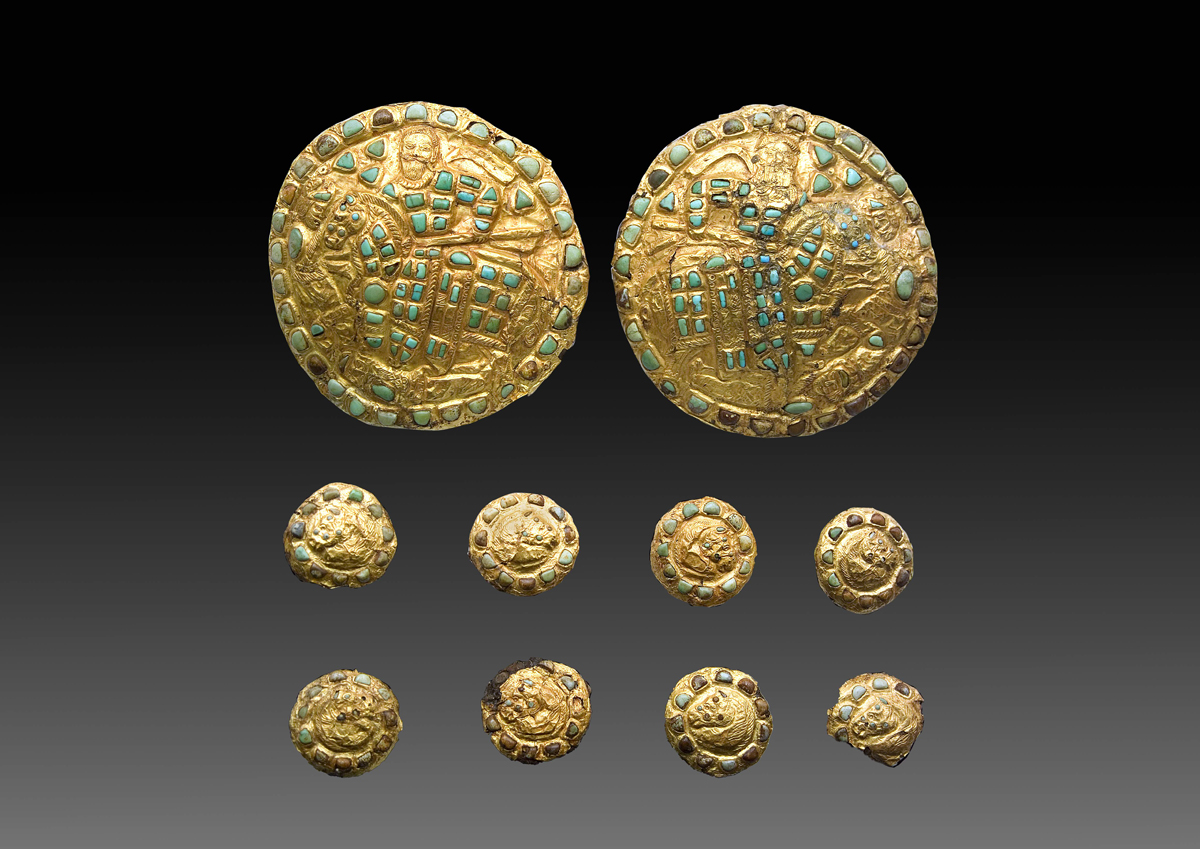 Item description
A set of horse phalerae with a battle scene
Gold, iron, turquoise
Parthia, 1st century BC – 1st century AD
Diam (shoulder phalerae): 10.0 cm; H: 2.0 cm; Diam (bridle phalerae): 3.9 cm; H: 0,9 cm
Provenance: English Private Collection
Literature: Habsburg, Feldman, Hotel de Bergues, Geneva, Monday 14 May 1990, Gold: Important Ancient and Ethnic Jewellery and Works of Arts in Precious Metal, ed. by Derek Content, lot 270; Bonhams London, Fine Antiquities, 20th May 1992 (London 1992), nos. 404-405; Treister and Yatsenko 1998, 61-66, 98, fig. 1; Mордвинцева 2003, 62, 167, рис. 52;
Boisgirard et Associés Paris, June 1st, 2007, no. 66.
A set of phalerae consisting of two large shoulder plaques and eight small bridle plaques, all made of gold sheet with turquoise inlays over an iron backing. The large phalerae represent a battle between a mounted rider and a warrior on foot; the rider pierces the belly of the enemy standing in front of him with a long spear. The body of another dead warrior lies under the hooves of the horse. The scenes on both roundels are similar, though not identical, forming a mirror image composition. The horses are protected by body armour decorated with turquoise, and the rider wears heavy leggings and a long-sleeved garment, similarly studded. Both riders and their enemies are bearded. Profile horse protomes are represented on the eight small phalerae, facing to the right on four of them and to the left on the other. The images are hammered from the back side and additionally punched from the front.
The phalerae discussed vary from those found in Sarmatian burials of the Lower Don and Volga area, dated from the 1st century BC to the first half of the 2nd century AD. These are decorated in the polychrome animal style and figural representations are unknown. The use of mirror-image composition is also uncommon for this group of phalerae but is typical of some Graeco-Bactrian phalerae as well as northern Pontic representations of the 2nd to 1st centuries BC; similar compositions also occur in 1st century AD Parthian metalworking.
Outer rims composed of bands of semi-circular turquoises as on our phalerae appear on phalerae in the collection of the Metropolitan Museum in New York and the Israel Museum in Jerusalem; the provenance of these objects is unknown but they may have been manufactured in Parthian Iran. Similar framing motifs also decorate a pair of buckles with mirror images of eagles grasping a goat or a hare; these are stylistically similar to the phalerae in New York and Jerusalem. The buckles, now in the British Museum and the Metropolitan Museum, were allegedly found in Nihavend in Iran. The depiction of the tails of the horses tied in knots follows an Iranian tradition which can be traced back to the Achaemenid period.
A broad dating from the first century BC to the first century AD may be posited for this set of phalerae. Similar items of the "gold-turquoise" style were widely distributed with their owners across the steppes of Eurasia. This set of phalerae is unique however, not only because they form a complete set including bridle and shoulder mounts but also because they are the only examples of horse harness in polychrome style decorated with figural, as opposed to animal, images.
On the phalerae in the polychrome style from the Sarmatian burials of the North Pontic area, see in general Mordvinceva 2001; Мордвинцева 2003. – Complete sets of phalerae: from Sadovyi barrow, see Raev 1986, pls. 34-35; Mordvinceva 2001, 84-85, nos. 102-103, pl. 51; Мордвинцева 2003, 88-89, nos. 66-67; 142, fig. 27; from the barrow no. 28 near the village of Zhutovo, see Mordvinceva 2001, 85, nos. 104-105, pl. 52; Мордвинцева 2003, 86, nos. 48-49; 135, fig. 20. – Phalera in the Metropolitan Museum, see Farkas 1973, 77 ff., figs. 1-2; Treister and Yatsenko 1998, 68, 106, fig. 24; A. Farkas, in: Cat. New York 2000a, 5, fig. 2; Mordvinceva 2001, 86, no. 109, pl. 54; Мордвинцева 2003, 59-60, 164, fig. 48, 3. – Phalera in the Israel Museum in Jerusalem, see Cat. Jerusalem 1984, 114; Treister and Yatsenko 1998, 66-69, 98, fig. 2; Мордвинцева 2003, 59-60, 164, fig. 49, 1. – Buckles, allegedly from Nihavend: in the British Museum, see Collon 1995, fig. 160 (top); Curtis 2001, 306, 327, pl. XIV, b.; in the Metropolitan Museum, see Ghirshman 1962, 100, fig. 112 (top); Cat. New York 2000b, 124-125, No. 95; 208.